| | |
| --- | --- |
| Vol.240: Steam Still at Work after August 1968 Part 6 – 1970-1971 (80-mins) | Price £19.75 |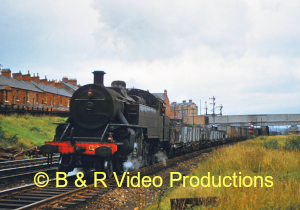 **RELEASED 21st.March 2022**
The sixth and final part in our "Steam Still at Work" series of films mostly featuring the steam scene, both at home and overseas, after the end of main line steam on British Railways in 1968. In this volume we also include a few historical sequences from earlier years.
The Severn Valley Railway was a favourite location for enthusiasts and is visited a number of times. Trips are also made-to other early preserved lines such as the North Yorkshire Moors Railway and Keighley & Worth Valley Railway. Ex-GWR King class 4-6-0 No.6000 "King George V" is seen with the famous 'Return to Steam' special in 1971.
The last main line steam locomotives working anywhere in the British Isles were in Northern Ireland. Here we spend time in 1970 watching the ex-NCC class 'WT' 2-6-4Ts top and tailing quarry spoil trains running alongside Belfast Lough. The wagons were specially built by Cravens of Sheffield and made up into three trains of twenty hoppers each with a "WT" engine at each end. They were used to transport fill for motorway construction. Also in Ireland the RPSI 1971 tour is seen behind Class J15 0-6-0 No.186, the most numerous class of locomotive to ever run in the Emerald Isle.
Other heritage locations seen include the Dart Valley Railway, Quainton Road, Bluebell Railway, Whipsnade and Umfolozi Railway, Sittingbourne & Kemsley Light Railway, Tyseley, Lincolnshire Coast Light Railway, Didcot, Dinting, Longmoor Military Railway, and the Llanberis Lake Railway.
The industrial steam scene is also well covered with crane tanks at Doxford's Shipyard Sunderland, the last exclusively steam-worked ironstone line at Nassington, Northamptonshire, at London Transport with ex-GWR Pannier power, and the oldest steam locomotive working commercially anywhere in the country at Wirksworth Quarries, Derbyshire.
We then travel across to mainland Europe where steam was considerably still in daily use. Here, amongst others, we feature 141Rs at Boulogne, push-pull 141TCs at Paris, the LCGB tour of West Germany in May 1971 (including 012 4-6-2, Prussian G8.1 0-8-0, and Class 50 2-10-0), the Rio Tinto Railway in Southern Spain, Northern Portugal (Iberian gauge plus narrow gauge) and the Erzberg iron ore rack railway in ice and snow.
Filmed entirely in colour, mainly between 1970 and 1971, a commentary plus sound track complement this nostalgic look at the steam scene largely after August 1968. Although this is the concluding volume of this series we will still be creating many more volumes covering other topics from the days of steam.
Click here to order this volume and other videos online
(By clicking here you are entering Wolverton Rail Videos web site with over 4000 transport videos & DVDs available
'Run by Enthusiasts for Enthusiasts since 1987′.
Please note you will be buying from Wolverton Rail and not B & R Video Productions)